Reform: A Supreme Question — Was Our Old System Working? Not For Thousands of Americans. Has the ACA Made a difference? Yes!
My name is Mary Vinograd and I am a mother of four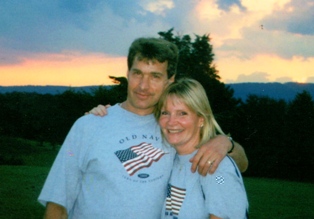 living in Bethesda, MD. My husband, Ken, was diagnosed with leukemia 5 years ago and, sadly, died in mid 2008. We had 3 children in college at the time and one in middle school. His death left us in a deep sea of losses. Fortunately, we were able to go onto COBRA through his employer. This was so helpful because I needed to go back to school to find a better job to support my kids and pay off college expenses. However, when I could no longer afford the high COBRA premiums, I applied for a new, less expensive private family policy through BC/BS of Md. I was informed that although my children could be covered, I could not due to two "pre-existing conditions." I was basically denied.
What were those pre-existing conditions? I take no medications and have no known diagnoses. I have a healthy weight, cholesterol, and medical history. My elderly parents and all 7 of my siblings are still living healthy lives. My doctor, however, has routinely ordered higher-level mammograms for me because I have dense breast tissue – very common- due to heredity. I have never had a lump or malignancy. My other "pre-existing condition" was because I had seen a chiropractor after I experienced neck pain from bumping my head while stooping under a kitchen counter. On those two grounds I was denied any coverage. Needless to say, I was shaken and subsequently refused to go in for mammograms and was even wary of routine physicals. I was even afraid to seek grief counseling for myself and my family because they, too, might be considered pre-existing conditions.
Fortunately, although I had to completely finish the 36 month course of COBRA, I was able to get on Maryland's High Risk Insurance Plan (MHIP), which has been expanded through the Affordable Care Act. My two older children, who are college graduates, have also had problems getting insurance, although now young adults under the age of 26 can stay on their parents health insurance policies. This has made a difference to thousands of American families.
I live in a prosperous country where many benefit from lavish privileges. No woman (or man) should be afraid to go for a regular physical or routine diagnostic exam for fear of being denied insurance coverage sometime in their (always) uncertain future.
I ask the state of Maryland to stand up as an example to the rest of the country and find a program where no state resident is left without the benefit of preventive care and the opportunity for early diagnosis and intervention. This May, I will receive my MSW with Health specialization from University of MD School of Social Work at age 55. I will have to sell my house in order to pay for my youngest daughter's college tuition on a meager starting social worker's salary – but at least I have that. With all the stress people are experiencing in this strained and uncertain economic climate, access to affordable, high-quality health care should be on the top of the agenda to support all citizens living here.